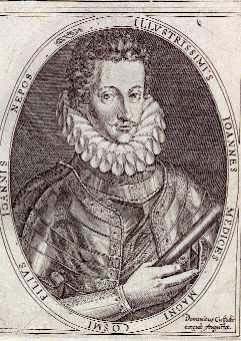 Don Giovanni de' Medici (1567-1621) is the illegitimate son o Cosimo I de' Medici. His mother was Leonora degli Albizzi.
Although legitimized, he played no role in Florentine politics and instead embarked on a military and diplomatic career outside Tuscany. His activities as an amateur architect, however, all fell within Tuscany.
He studied at the Accademia del Disegno in Florence. In 1590 he designed the Fortezza Nuova at the port of Livorno, his only contribution to military architecture, and in 1593 he designed the façade of San Stefano, Pisa.
In 1596 he won the competition for the façade of Florence Cathedral over entries submitted by Bernardo Buontalenti, Giovanni Antonio Dosio, Lodovico Cigoli and Giovanni da Bologna; work began but was abandoned. In 1602 Giovanni was invited to redesign the cupola and piazza of Santa Maria di Provenzano, Siena.
His major architectural achievement was the monumental Cappella dei Principi at San Lorenzo, (photo bellow) Florence, which was built by Matteo Nigetti from 1604 to a revision of Giovanni's design as a mausoleum to the Medici Grand Dukes. Excepting the lavish marble revetment of the Cappella dei Principi and the utilitarian nature of the Fortezza, the richly decorative and sculptural quality of Giovanni's works have their origins in the architecture of Michelangelo, Vasari and such later 16th-century architects as Buontalenti and Giovanni da Bologna.