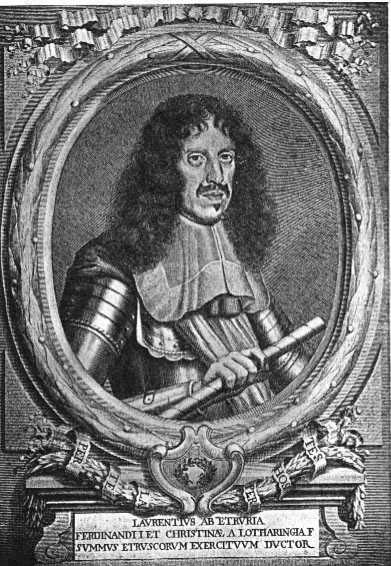 Lorenzo di Ferdinando de' Medici (1599-1648) was the son of Ferdinando I de' Medici.
In 1609, aged ten, he inherited from his father the beautiful Villa della Petraia, near Florence, which he made his country home.
His private residence in Florence was the present Palazzo Corsini in the Via del Parione. Unfortunately, there is no known inventory for this house covering the period when it belonged to Lorenzo; it is known, however, that he used it as the meeting-place for a theatrical academy.
Always a bachelor, despite matrimonial negotiations (1624–1628) with the Princess of Stigliano, he showed no interest in politics but devoted his energies to sports, hunting and patronage of art and the theatre, becoming renowned as an organizer of festivities and entertainments.
Most of the important information on his activities as an art patron comes from analyzing the collection he kept at the Villa della Petraia. Among his favourite artists, almost all contemporary Florentines, were Giovanni da San Giovanni, Carlo Dolci, Francesco Furini, Cesare Dandini, Baldassarre Franceschini and Stefano della Bella, who was among the artists maintained by Lorenzo's court from 1629. He also showed a certain interest in Flemish artists, especially after 1626, when he escorted his sister Claudia to her betrothed, the Archduke Leopold of Austria. His most important artistic commission was of the fresco cycle in the courtyard of the Villa della Petraia, depicting Splendours of the House of Medici by Franceschini.