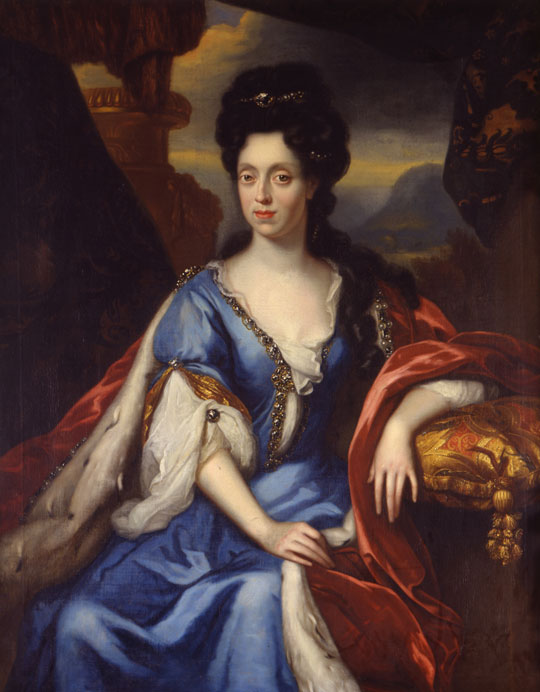 Anna Maria Luisa de' Medici, Electress Palatine (1667-1743) was the daughter of Cosimo III de' Medici.
She married John William, Elector Palatine of the Rhine in Düsseldorf in 1691 but returned to Florence in 1717 after his death.
She survived her brother Gian Gastone de' Medici, the last Grand Duke, and remained the only Medici after Tuscany passed to the Duchy of Lorraine in 1737.
In the tradition of her family, she took an active interest in the arts.
As Electress Palatine she encouraged artistic exchange between Florence and Düsseldorf: works by Raphael, Andrea del Sarto, Domenichino and Federico Barocci were sent to the German city, while the Medici collections were enriched by Dutch and Flemish paintings.
In Germany she collected mainly jewelry, forming one of the richest collections of the time. In Florence she patronized many Tuscan artists: a series of bronzes on religious subjects was commissioned between 1722 and 1731 from Giovanni Battista Foggini, Massimiliano Soldani, Giuseppe Piamontini and others that are now dispersed in museums throughout Europe and America.
She ordered religious paintings from Matteo Bonechi, Ranieri del Pace, Giovanni Sagrestani, Giovanni Domenico Ferretti, Francesco Conti and others for the Conservatorio della Quiete, near Florence, which she arranged to have completely renovated. Other commissions included studies of animals, vegetables and plants painted from life by Bartolomeo Bimbi and Gaspare Lopez; self-portraits; and miniatures.
Under Anna Maria Luisa's patronage various important works were undertaken in San Lorenzo, Florence, between 1738 and 1743: Vincenzo Meucci frescoed the cupola, and Federico Ruggieri rebuilt the campanile in 1740 and supervised various works in the Cappella dei Principi. Her name is associated with the family pact of 1737 that was made with the Lorraine, stipulating that the Medici art collections were to remain in Florence.