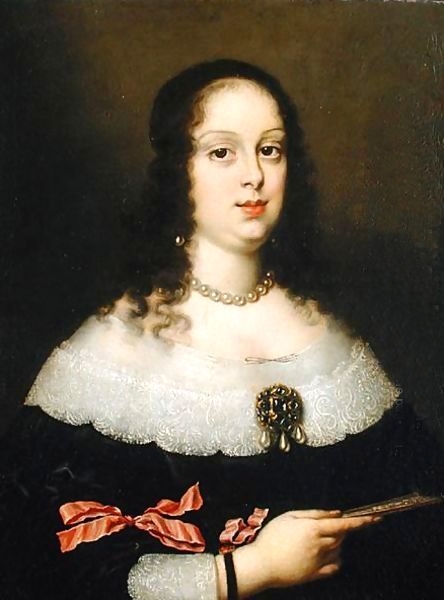 Vittoria della Rovere, Grand Duchess of Tuscany (1622-1694) was the wife of Ferdinando II de' Medici. She was the daughter of Federigo-Ubaldo della Rovere (1604–1648) and Claudia de' Medici.
She is best known as the last heir of the art collection assembled by her family in Urbino and as the person who, through marriage, passed them on to the Grand Duchy of Tuscany. Always interested in worldly and cultural affairs, she spoke Spanish and French, knew Latin and sponsored a variety of literati, becoming patroness in 1654 of a literary academy in Siena called Le Assicurate, devoted exclusively to women.
As a patron she commissioned various decorations: for example, Baldassare Franceschini worked on a series of commissions for her, including painting the ceiling of the Sala delle Allegorie in the Palazzo Pitti, Florence (can be seen here).
Between 1681 and 1683 she commissioned the decoration of certain rooms in the villa at Poggio Imperiale near Florence, including the ground-floor salone, which was frescoed by the Roman artist Francesco Coralli. Vittoria was also protectress of the Conservatorio della Quiete, near Florence, and sponsored the building of the church, begun in 1686 under Pierfrancesco Silvani.
Many portraits of her have survived. Among the most famous likenesses are those by Francesco Furini, Carlo Dolci and Giusto Suttermans, who portrayed her several times from childhood onwards. There are also portrait sculptures by Giovanni Battista Foggini and one in pietre dure created posthumously by Giuseppe Antonio Torricelli, who also portrayed the Grand Duchess, in her later years, on a cameo.